Code of good conduct on the RAVeL
Code of good conduct on the RAVeL
Respect for others, respect for nature and heritage, but above all, basically, compliance with the rules… for a peaceful and pleasant RAVeL!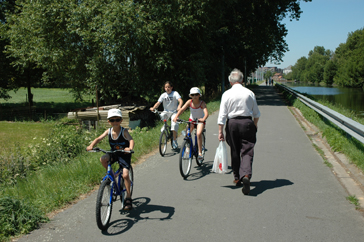 Whether you use it for sport, leisure, to do your shopping or to go to work, the RAVeL is a place for travel, but also for relaxation for EVERYONE! It is intended for ALL non-motorised users. All types of people meet here, regardless of their means or pace of travel.
Which is why, on the RAVeL, the key word is FRIENDLINESS!
With a little goodwill, tolerance and thoughtfulness, everyone will definitely be able to share the RAVeL in the best possible conditions.
---